Testimonials
I have never been to the writing center before and I found this session very enjoyable so I would not hesitate to come back if I were to have another writing task. I felt like I was able to really work out my thoughts as my tutor asked me questions that made me think more about the topic.
I really felt a lot more confident in my writing after my session. The confidence I gained was really from the dynamic feedback the tutor gave me. The tutor was able to highlight some of my strengths, but also pointed out areas that could have definitely used some editing. A sense of trust developed between me and the tutor that I was pretty astonished by!
This was an incredibly valuable experience at the writing center! I appreciated my tutor's feedback and how she not only was attentive to my concerns-but she opened my eyes to an area of my writing that I need improvement in, in a respectable and helpful manner.
I had someone besides myself to read over my work and help me. Being virtual its hard to get that guidance and I received amazing help.
This was a very valuable session. The tutor was so kind with her suggestions and supportive throughout the process. We looked at a different paper than the one I originally submitted and made positive changes together. Since a majority of my sentences were complex, she helped to shorten a few of them that were unnecessarily so, while commending those that were not as overwhelming.
My tutor was willing to adapt to my concerns, she was very helpful in understanding what I needed. The chat function is also easy to use (I appreciate the different colors).
My experience at the Writing Center was better than I thought it would ever be. I came out of it with a much better understanding of how a resume should look like, plenty of advice and more confidence to land an internship! It was nice to see the attention to detail that the tutor put in to her work in looking over my resume.
This was my first time reaching out to the Writing Center, so I was not sure what to expect. I figured I would simply get a few comments, and that was it. However, I was extremely surprised, and I am grateful that the tutor spent so much time on my paper. I was not expecting the whole written page she wrote to me explaining my strengths and weaknesses. In particular, I found the reverse outline of my paper to be very helpful. I never heard of that before. As a result, I am very pleased with the feedback Hanna gave me, and because of that, I feel more confident now to reach out to the Writing Center. I will want to reach out to her specifically again in the future as well.
I'm having a hard time accurately conveying how helpful the tutor was with peer-reviewing my story. It was like she anticipated my thoughts and concerns before I even knew how to articulate them. It was a really inspiring and relieving session that just felt like a natural conversation between two writers. I really appreciated her investment in my story and the feedback she gave. I walked away knowing exactly what she thought I was doing well and what changes I can make. Thanks!
I think that the writing centre is valuable and the tutor's over there are best and give the best suggestions and ideas to make our assignment more interesting and helps us score more.
Overall, the tutor was extremely helpful and thoughtful. My short story was long and had some horror elements, but despite that, she gave me constructive feedback and pointed out the parts of the story that worked. She also gave me some really great insight into working at the Writing Center, which I look forward to doing in a few weeks. Thanks!
Asynchronous sessions are very helpful for getting quick edits from a tutor. Sometimes in a live session, the tutor has to read the paper in real time and analyze it, while asynchronous sessions give them more time to give thoughtful feedback.
I really appreciate [my tutor's] way of responding to feedback. I can tell he looked at my concerns for the session and kept them in mind while he read my work. I also found his opening letter to be very easy to follow to see how he approached the writing and the feedback for it. Seeing his reverse outline helped me get a clearer sense of the organization in the paper. He was quick to respond to my asynchronous session, so I could make adjustments right away.
I was impressed with the Writing Center because they were so supportive of me. They were so passionate to find out what students struggling with so far.
The tutor made it clear that their main focus what to help with my concerns as well as point out some of my strengths. This really encouraged me or motivated me into just keep on using those strengths in order to surpass my weaknesses. I really felt that my tutor did know what they were talking about instead of just giving me random and basic information that is just given to any other student that needs feedback for their paper.
Testimonials from in-person tutoring sessions before lockdown Heading link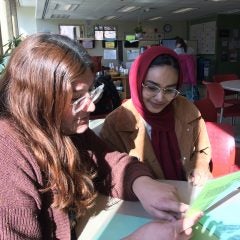 "[The tutor] did a great job of offering me help and guidance in developing & outlining my paper. She always maintained her focus on asking multiple questions to secure an understanding of my paper. I look forward to coming back again and perhaps scheduling with her."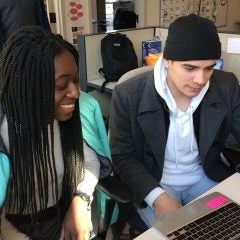 "I really appreciate the feedback given–it was specific enough to be helpful and was very constructive. I really liked the focus on both small details and structural changes. Thank you so much for your help!"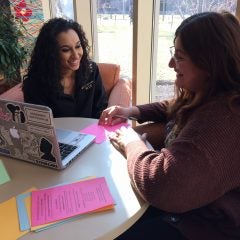 "Extremely helpful. Helped me formulate ideas, provided direct answers, bounced ideas off of each other etc. 10/10 would recommend! :)"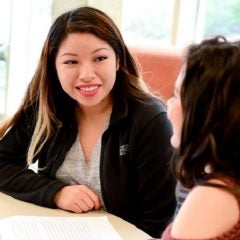 "Kind, compassionate, listens."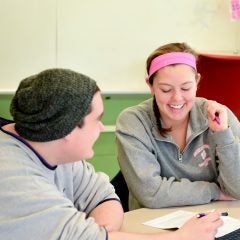 "He was truly a delight. He helped me so much with improving my application and I am so grateful for all of his help. Truly a phenomenal tutor!"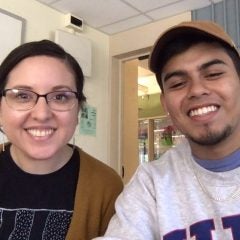 "She was really great and really personable. She gave me great ideas and structure for my papers. It is because of her that I will be able to finish this. Absolute joy!"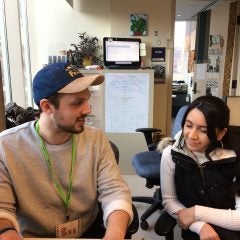 "Found it to be very helpful that the tutor was very thorough when reading my assignment. The tutor also made sure to continuously ask if they were clear in their explanations and if I had any questions."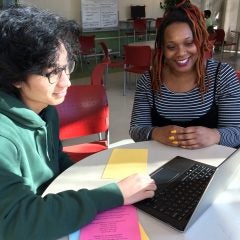 "Very helpful in giving me pointers on how to restructure my wording to be impactful! Gave me confidence in what I have written. Provided critiques in a positive manner. Super helpful, thank you!"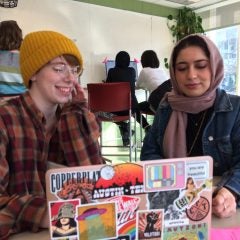 "Great tutor. Actually cares."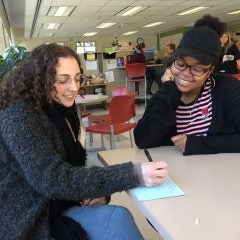 "[The tutor] was very helpful! She really helped me see where my weaknesses are in my paper and she gave me a lot of feedback and suggestions to improve my paper and make stronger and cleaner. I also like that she kept asking questions to understand what I want to say vs. what I have on my paper."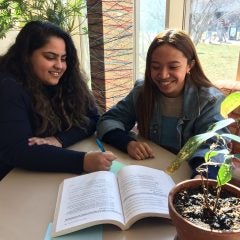 "Made me feel comfortable even when I didn't understand what was read in the article. Explained well how to approach articles."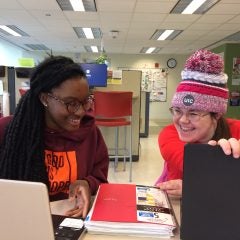 "[The tutor] helped develop my writing skills to an extraordinary level this semester, from struggling in my Honors and English with below average grade, they helped me improve my grade to an A in both courses. The Writing Center is AWESOME!"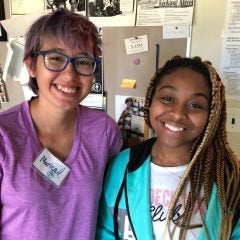 "[The tutor] helped me to pick a topic that I might be interested in and explained how to start off on reading articles first."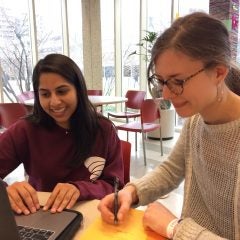 "[The tutor] was amazing and took everything I had to say into consideration. She made sure that I understood and I'll definitely pick her again."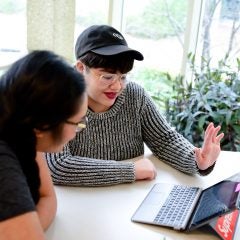 "Very helpful to talk everything out with; offered good feedback and advice on moving forward."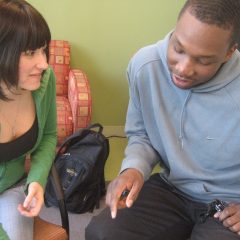 "[The tutor] really helped me out today. He helped me with my outline for my research paper as well as starting the intro to my writing. I liked how he uses breaks among our session since I need breaks as well when I'm stressed out. I'm confident in completing the research assignment; I look forward to working with him again soon."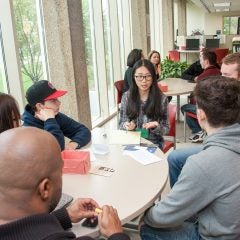 "[The tutor ] was extremely kind and helpful, not being deterred by a language barrier between her and my partner's content. Very clear conversation and focus of ideas. Thank you!"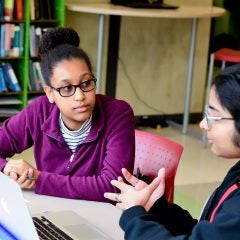 "[The tutor] was very helpful. I needed help brainstorming an outline even though I had already started writing. She helped me create a reverse outline which I'd never done before and it helped me a lot!"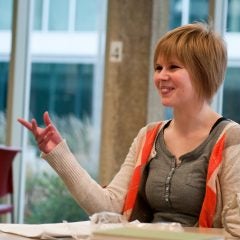 "She was really able to hype me up and make me feel good as a writer. The comments she made were constructive, but she was also very reinforcing and able to explain feedback in a way that I can understand easily. Overall, great session and great tutor! :)"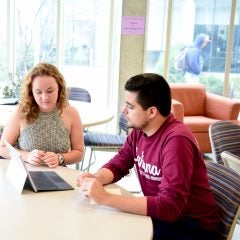 "Thank you for the help with my paper. I was able to organize my thoughts a little better and focus more on centering my paper around my thesis!"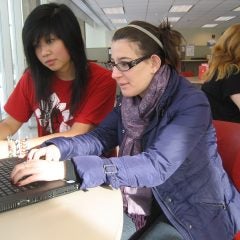 "[The tutor] did a wonderful job of helping with my paper. I found her questions and guidance very useful in helping me lay out ideas and help outline my paper. This session was a great help in my writing process. Thank you very much! You are going to make a wonderful educator."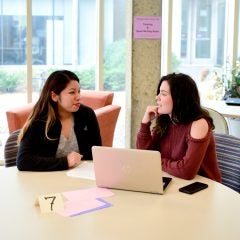 "I like working with [the tutor] because she makes it easier for my papers by outlining the essay and giving me strategies to make it longer. I really appreciate your help!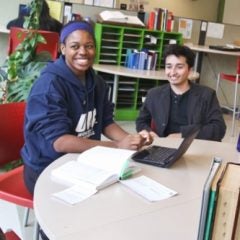 "Was very great. Happy I came because it made me realize I had a lot of info. If it wasn't for [the tutor] I wouldn't have known. Great listener!"