online
We will begin tutoring on Wednesday, March 25th.
All sessions will be online for the rest of the Spring semester. We will NOT be having appointments in-person in Grant Hall 105.
To make a new appointment, go to https://uic.mywconline.com/, login, and click on an available white square.
To join your online appointment, a few minutes beforehand, go back to  https://uic.mywconline.com/, click on your appointment, and click the green "JOIN ONLINE SESSION" link.
If you have any problems, write an email to wconlinehelp@gmail.com, and we will respond.
We look forward to continuing to work with you online.
Sincerely,
The Writing Center Tutors and Staff
Get Online Individual Support for Your Writing
ANY WRITING: We'll work with you on research, personal statements, lab reports, memos, class assignments, applications, or whatever you have.
ANY STAGE: Bring a draft or no writing at all and we'll help you get started.
MAKE AN APPOINTMENT: Reserve a tutor ahead to work with you for online 30, 60 or 90 minutes.
QUESTIONS?  NEED HELP BOOKING OR JOINING AN ONLINE APPT.? Email: wconlinehelp@gmail.com
Hours & Location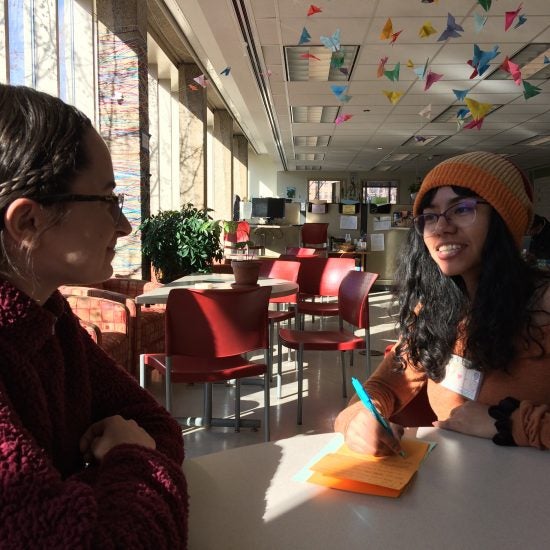 Testimonial feedback from a Writing Center user:
"This was an amazing experience as someone who came here for the first time. My tutor was very down-to-earth and gave me much better feedback than my professor and classmates. I feel more confident on finishing up my paper after our session here than weeks of class. 10/10 will come back if I have another paper."
Read more testimonials from students who've used the Writing Center